Like our team at Associated Hemp, this page is dedicated to sharing information about cannabinoids like CBD and CBG, and their many benefits.
Have more questions? Chat us!
Will cbd help with
social anxiety?
CAN CBD AFFECT BIRTH CONTROL?
do cbd creams work for pain management?
does cbd help
with epilepsy?
WILL CBD HELP ME
QUIT CIGARETTES?
WILL CBD SHOW UP ON A DRUG TEST?
CBD for Pets: Does it work?
CBD treats for dogs and cats is a great way to naturally calm the furry(est) members of your family. As with humans, dogs and cats also have endocannabinoid networks. CBD interacts with your pet's system much like it does with ours, helping relieve anxiety and pain, without making them feel lethargic.
CBD, short for cannabidiol, is one of hundreds of naturally occurring compounds found in the hemp plant. Hemp is a 'cousin' of the cannabis ('marijuana') plant. Scientific studies have demonstrated that hemp-derived CBD can provide numerous health and wellness benefits by working with the body's own endocannabinoid system, which regulates your anti-inflammatory response, immune system, appetite, mood, sleep, and more.
Yes, CBD – unlike THC, the psychoactive component found in the cannabis plant – is legal to possess in all 50 states. All GoCBD products are derived from legally grown 'hemp' as that term is defined under the 2018 Farm Bill, 7 U.S.C. §1639o.
CBD, unlike the well-known cannabinoid THC, is not psychoactive – meaning, it won't get you "high." Instead, CBD is the active chemical compound found in cannabis that works together with your body's own endocannabinoid system to enhance the wonderful benefits that your system already provides.
No. While CBD is a component of cannabis (one of hundreds), the compound itself does not cause a "high." CBD is not THC – the psychoactive compound found in cannabis that is responsible for the intoxicating or euphoric effects – and GoCBD'sproducts will not get you "high."
WHAT ARE THE BENEFITS OF CBD?
As CBD consumers ourselves, we take great pride in the products we offer and the benefits we've so often seen them provide. We believe that CBD has tremendous potential when sourced, manufactured, and marketed transparently – and GoCBD was created to ensure that reliable, high quality CBD products can play a key role within your wellness journey.
WHAT IS THE DIFFERENCE BETWEEN HEMP AND MARIJUANA?
Hemp and marijuana are both cannabis, but they differ by their chemical makeup and usages. Unlike marijuana, hemp contains less than 0.3% Delta 9 THC – a negligible amount that won't get you "high." Instead, the hemp plant is capable of producing high concentrations of non-intoxicating CBD, which we then carefully extract to make our full suite of wellness products.
WHAT DOES "BROAD SPECTRUM CBD" MEAN?
"Broad spectrum" is a term used to describe how our products have been processed. Our full suite of broad spectrum CBD products contain all of the phytochemicals naturally found in hemp, including CBD, trace phytocannabinoids, terpenes, and essential oils – but THC is completely removed after the initial extraction. Broad-spectrum is the preferred option if you're looking to maximize the impact of your hemp-derived products and achieve that "entourage effect," but prefer not to consume any THC.Our premium raw flower and pre-rolled joints, on the other hand, may contain trace amounts of THC below the Delta 9 THC limit of 0.3% by dry weight. With our growing selection of sustainably cultivated, organically grown hemp flower strains – each with its own unique terpene profile – our team is here to help you determine if these products or our broad-spectrum products might be best suited for you.
WHAT ARE PHYTOCANNABINOIDS AND WHAT IS THE "ENTOURAGE EFFECT"?
Phytocannabinoids are similar to endocannabinoids – which are produced by our body's own endocannabinoid system to regulate functions including memory, sleep, mood, appetite and more – and are naturally occurring in the hemp plant.When we refer to the "entourage effect," we're referring to the naturally-occurring cocktail of phytocannabinoids found in our broad-spectrum products that work together to maximize the impact of CBD. While the phytocannabinoid family includes the more well-known THC and CBD, it also comprises hundreds of other compounds, including the beneficial cannabigerol (CBG) – which can be found in our tinctures and topicals.CBG is a phytocannabinoid that is being increasingly studied for its potential to support nervous system health, immune function, skin health, and a positive mood.And while terpenes – which are also found in our products – are not actually part of the phytocannabinoid family and are instead fragrant essential oils, they are thought to provide a host of therapeutic benefits in combination with other phytocannabinoids. Not only that, but they lend distinctive flavor profiles to a variety of cannabis plants.As you continue to navigate the CBD world to determine the best products for you, you can depend on our team of experts to answer any questions you might have and help guide you in the right direction.
HOW OFTEN SHOULD I USE CBD?
CBD is considered a supplement. Just like with any supplement, you should start "low and slow" to see how your specific body reacts to it. CBD can help you relieve anxiety and it can also help you get to sleep. Understanding the dosage and your body's response to it can help you achieve your desired effect.
For optimal wellness, you want to use CBD every day. CBD comes in many forms, and our team is here to help you determine which formulation might be best suited to your lifestyle. Whether you're considering tinctures or topicals. Our experts will walk you through the options available to you until you're 100% satisfied with your decision. We've seen hemp products provide a wide array of therapeutic benefits, which is why we offer a full suite of products for you to choose from.
Our CBD is extracted from the finest United States-grown hemp, processed with the cleanest and most organic options, and marketed with the highest level of transparency.
WHERE DOES YOUR CBD COME FROM?
GoCBD sources hemp from several leading farms throughout the Northeast region of the United States.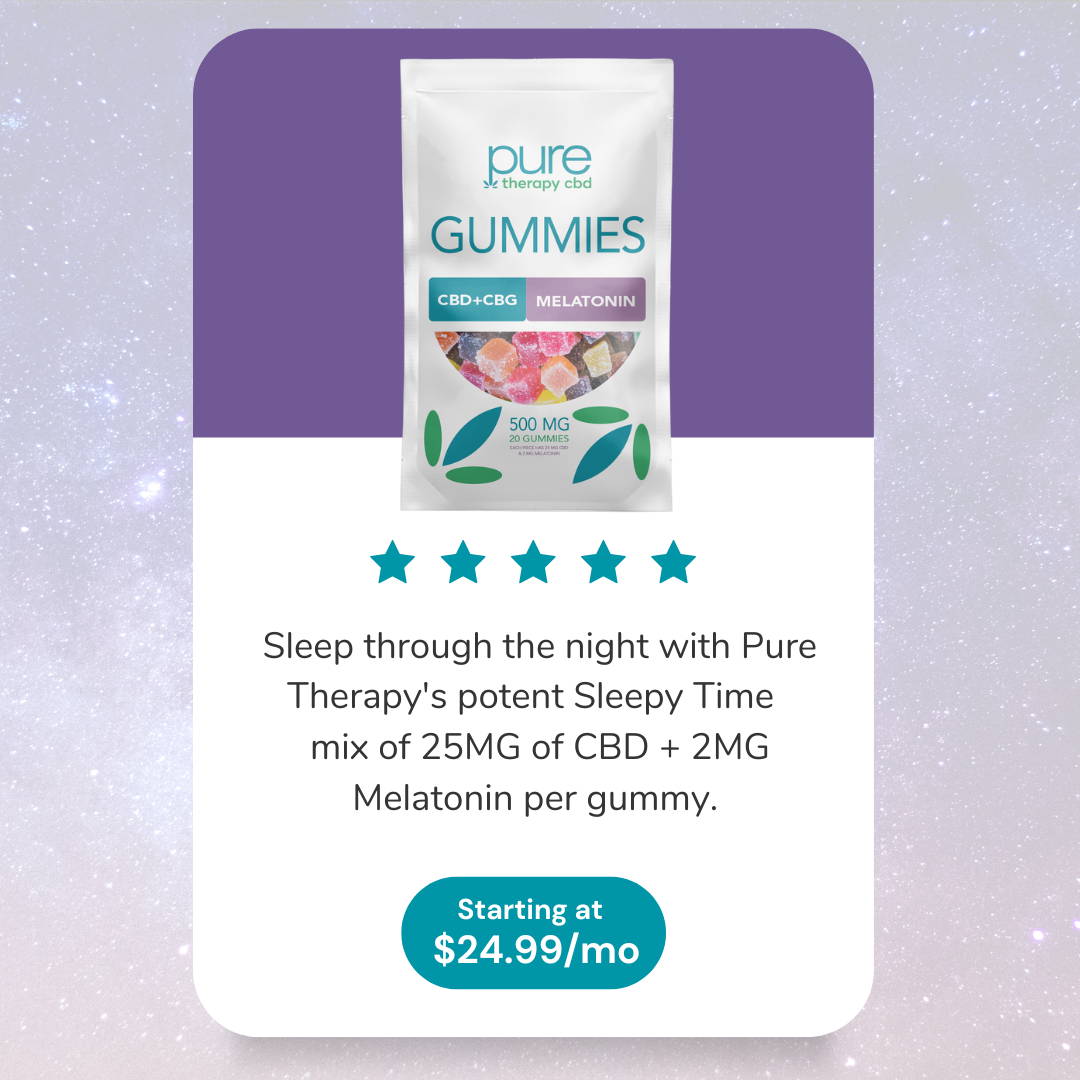 One of our most popular products is Pure Therapy's CBD + CBG for sleep, which also contains Melatonin. The presence of CBD + CBG allows you to ease into sleep and get a full night's rest.
Customers like you buy...
Follow us on @associated.brands and use the hashtag #iamassociated to be featured.